Festival of Tolerance - JFF Zagreb and UNHCR Croatia have once again prepared an engaged art project that will thematize the position of refugees in the world, and especially in Croatia. According to official UNHCR data, there are currently over 70 million IDPs in the world, of which over 85 percent are in developing countries. During the Homeland War, 400,000 refugees from Bosnia and Herzegovina found refuge in Croatia, while the state took care of its own 500,000 refugees. It is precisely this connection that is lacking in public discourse as a catalyst for solidarity and empathy for people today who are going through similar traumas faced by many residents of these areas only a quarter of a century ago. Since 2004, when the Asylum Act came into force, 920 refugees, mostly from Afghanistan, Iraq and Syria, have been granted protection in Croatia.
The idea of ​​the ReD exhibition is to sensitize or encourage dialogue on the situation of refugees, but also on how we ourselves, consciously or unconsciously, treat "them" - through direct contact, pondering and talking about them. The key to the ReD exhibition are the designers. After all, the very name of the exhibition came about by combining the words "refugee" and "design". Additionally, the word "red" denotes the degree of urgency of a problem that has been permanent for more than seventy years. The number of refugees in the world today has doubled compared to the situation only five years ago. Specially designed posters were placed in the most private public space (the interior of public transport) of the following cities: Dubrovnik, Osijek, Split, Zadar and Zagreb.
The designers and design offices that designed the posters are some of the most important currently active in Croatia: Ana Kunej (Kuna Zlatica), Dejan Dragosavac Ruta, Iva Babaja, Bruketa&Žinić&Gray and the Šesnić & Turković studio.
It is a committed project that allowed designers complete freedom of work, all with the aim of raising awareness of who the refugees are, where they come from, but also to show that refugees are people like everyone else whose lives were interrupted by violence and serious human rights violations. The task that the designers were given in the initial phase of the project was reduced to five key issues that their posters had to address.
Who are the refugees? What are they running from? How do they escape? What awaits them when they arrive? Why help them?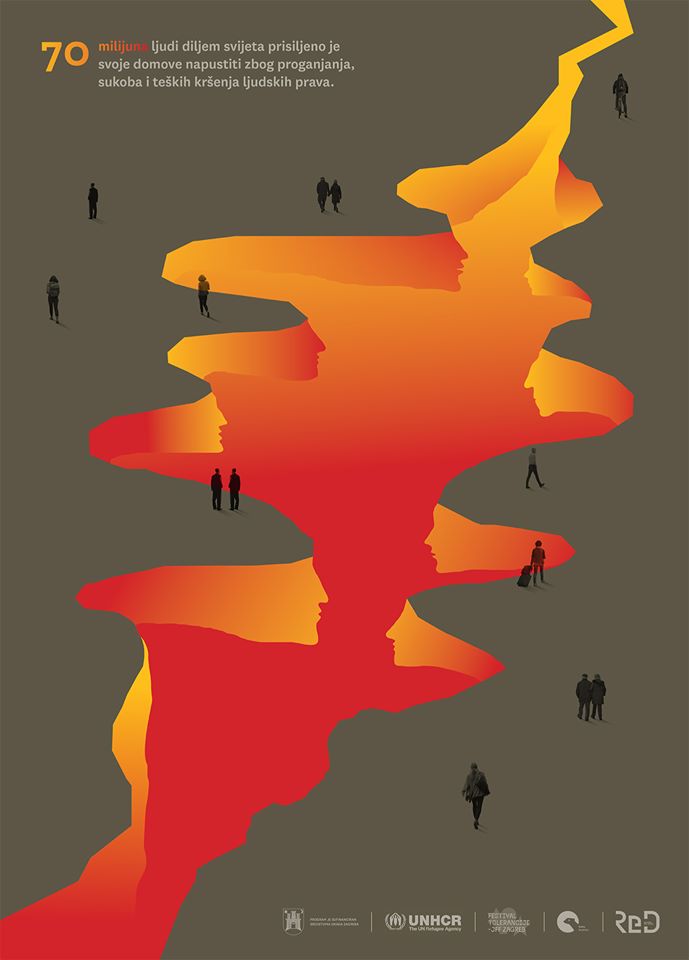 "There are places on earth that have been home to some people. Now life there is impossible. Fleeing for fear of one's own life is a natural reaction of every human being, and more than 70 million of them worldwide are forced to leave their homes due to persecution, conflict and grave human rights violations. Most of the exiled people want to return home. I imagine that feeling as a gap in the earth's crust, a glowing abyss in which it is impossible to be, and what they leave, what now only outlines reminds of a familiar place, remains home only because of them."
- Ana Kunej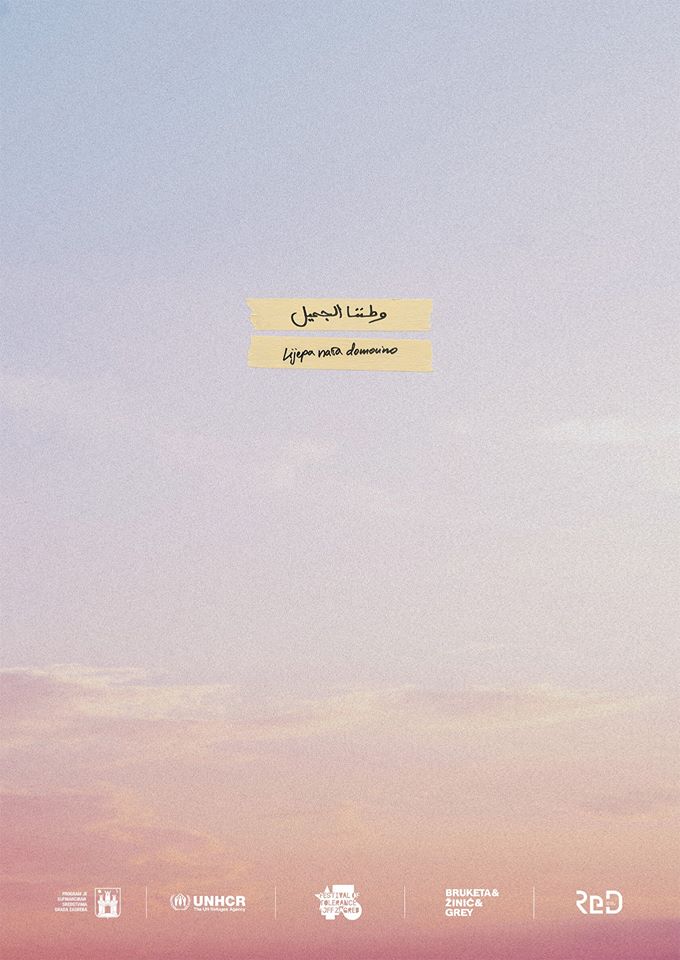 "The poster questions whether, as a community, we have the capacity to be a homeland to people who were not born here and who belong to a different culture."
- Bruketa&Žinić&Grey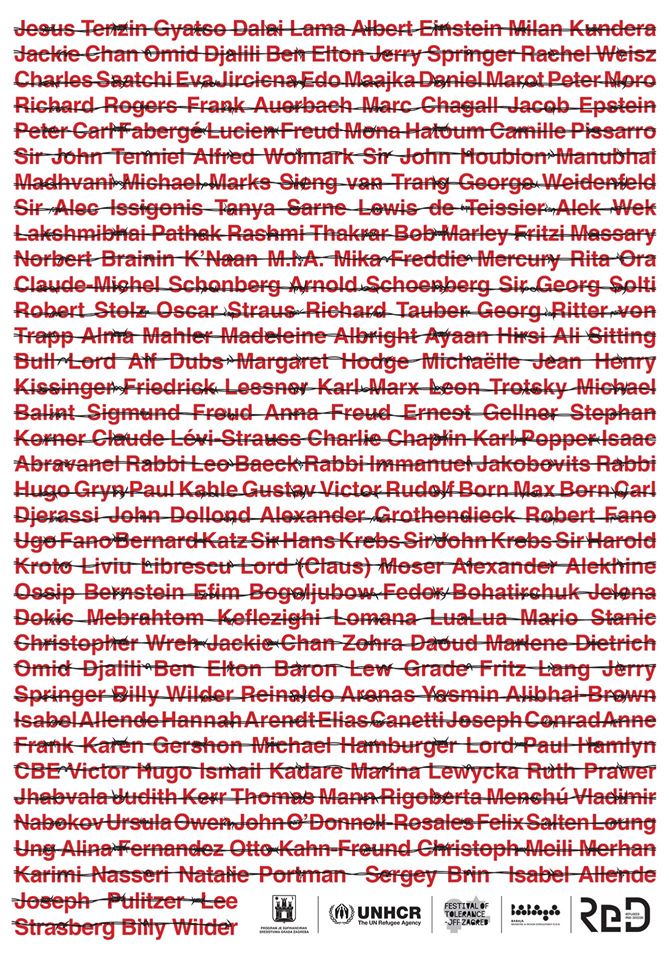 "The idea of ​​the posters is to show how much refugees have contributed to the evolution of the society in which we live. Immigration and migration are part of our history and a way of evolving civilizations. Today, everyone looks at refugees with skepticism and fear that they will disrupt their culture of living in a particular area, when in fact it is true that great ideas come precisely through the mixing of cultures and ideas. The names on the poster are some well-known, some less well-known, but each of the individuals has significantly contributed to the society in which they immigrated. Therefore, we say that refugees and immigrants should not be seen as a threat, but as an introduction to a new chapter in society that will, we hope, be more tolerant, inclusive and creative precisely thanks to the contributions of other cultures."
- Iva Babaja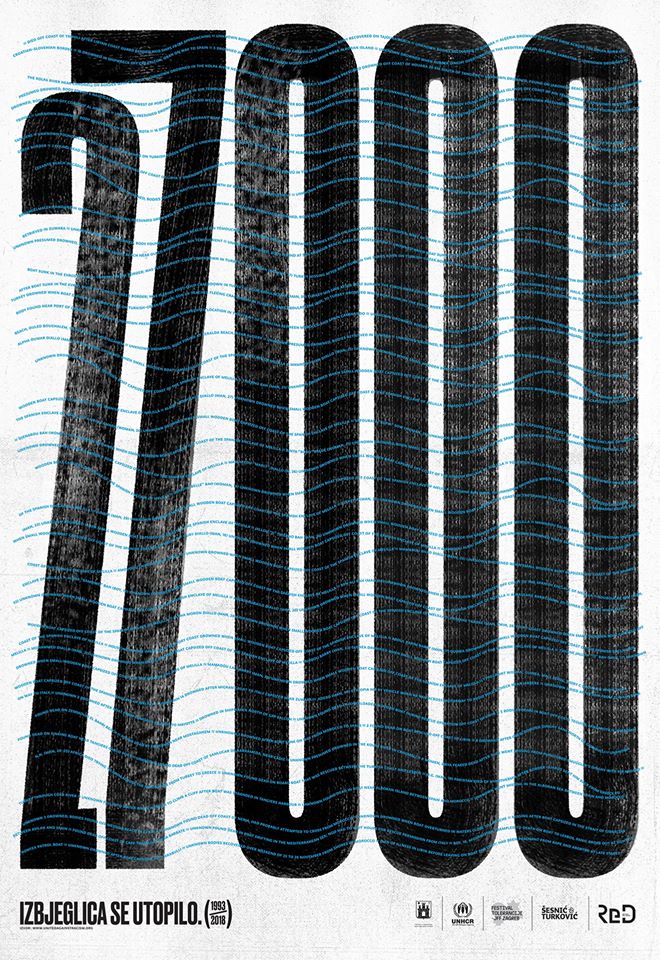 "The '27000' poster communicates the number of refugees died in the seas and rivers on their way to their desired destinations. The list of dead people, which briefly describes the manner in which they died, is extremely shocking and transforms this huge abstract figure into a series of real and personal unfortunate endings. The 27,000 refugees who drowned, in a sea of ​​negative news, we can try to ignore, but hopefully it will be much harder to ignore the information that a ten-year-old Afghan was run over to death on a boat near Lesbos Island because passengers panicked seeing a patrol boat nearby."
- Šesnić&Turković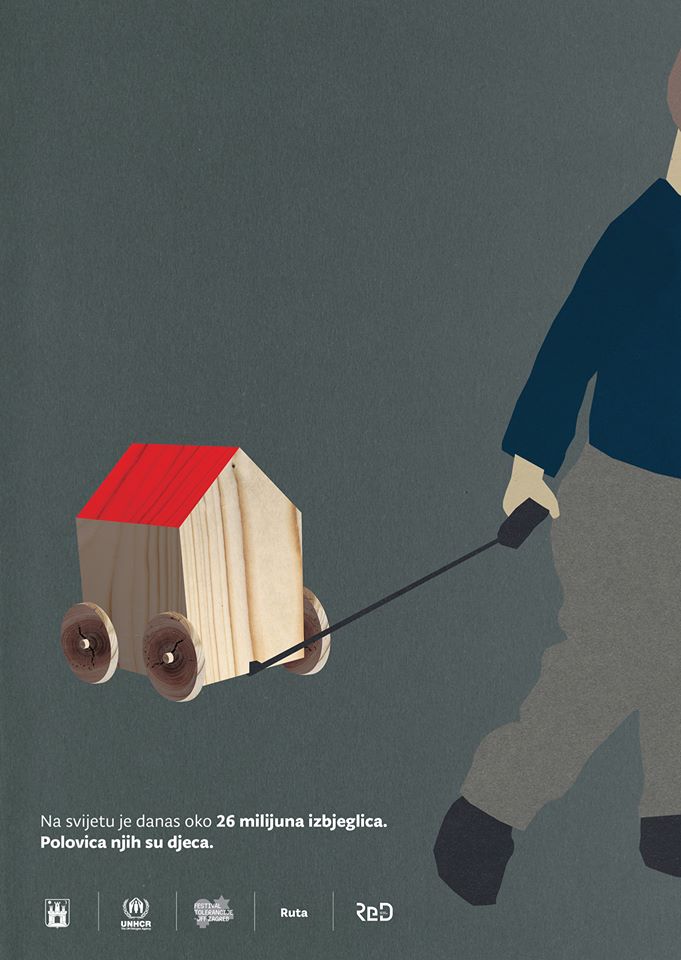 "Children are the most vulnerable social group in every possible situation so my focus was right on them. The very thought that there are currently thirteen million children fleeing their homes in the world, whose lives are at stake, is frightening and we can only guess what trauma they are going through growing up."
- Dejan Dragosavac Ruta
Advertising spaces within the public transport of Dubrovnik, Osijek, Split, Zadar and Zagreb have served as an exhibition space and represent a perfect combination of public and intimate. Users of public city transport, following their daily obligations, spend intimate moments in buses and trams, which are best described by the phrase "period of loneliness". Paradoxically, as rarely where people in public transport are completely their own - they think about what awaits them or what they experienced and (or) saw that day; they add up their own thoughts and impressions before returning to their own home or coming to work, school, or a place of leisure. It is a precious lost, wasted time that shapes us without us even being aware of it.
"The crisis caused by the COVID-19 virus has reminded us that we are only as strong as the most vulnerable among us. We can only succeed if we stick together. The posters we share with people across Croatia on this year's World Refugee Day are a call for solidarity spoken by some of the best Croatian designers. This exhibition helps us see more clearly what we might otherwise overlook: everyone can help, everyone can make a difference in the lives of people who have been forced to leave their homes. "
- Giuseppe Di Caro, UNHCR Representative in Croatia
The ReD exhibition was realized independently by Festival of Tolerance - JFF Zagreb and with the support of the City of Zagreb and UNHCR Croatia and in the public sphere of the above mentioned was exhibited from 7 to 28 June 2020.
Designers: Ana Kunej (studio Kuna Zlatica), Bruketa&Žinić&Grey, Dejan Dragosavac Ruta, Iva Babaja and studio Šesnić&Turković
Project leader: Nataša Popović
Concept author: Hrvoje Pukšec
Expert advisor: Katarina Juras
Visits:
Kustošija library (July, August 2020.)
Podsused library (September, October 2020.)
Voltino library (November, December 2020.)
City gallery Zabok (16. 11. 2020. - 7. 1. 2021.)
Staglišće library (8. - 30. 6. 2021.)
City library Zadar (26. 7. - 14. 8. 2021.)
Dugave library (11. 10. - 6. 11. 2021.)